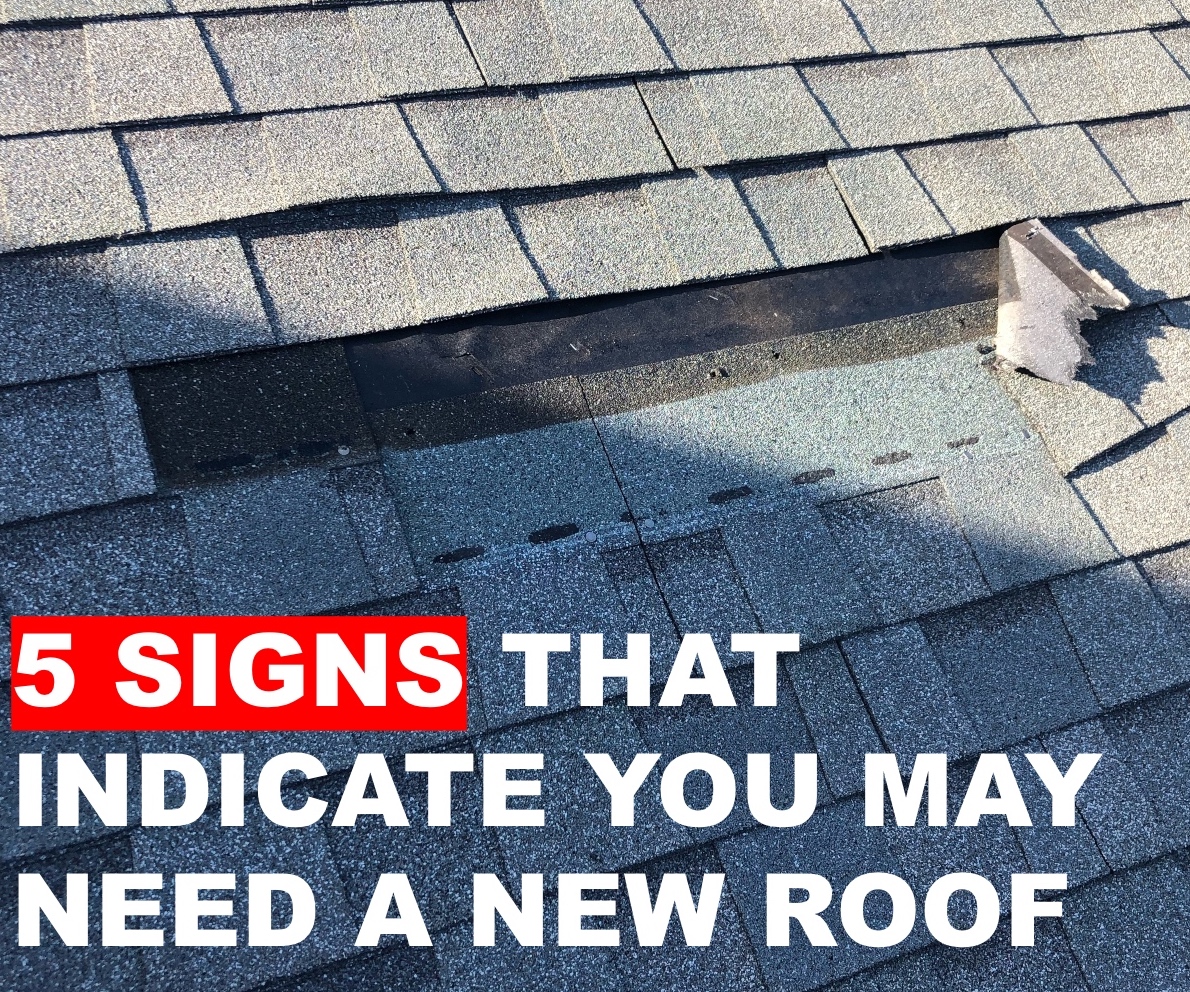 As a homeowner, your roof is one of the most essential parts of your home. Your roof protects your home from the outside elements, starting from rain, wind, snow, hail, etc. Being one of the most important aspects of your house, you should make sure that it is functioning properly and have a professional inspect it, regardless if it is leaking or not. You may ask yourself; do I need a new roof? In this blogpost I will be going into 5 signs that it may be time to replace your roof.
5 Signs:
Missing Shingles
Missing shingles allows for water to enter your home. Missing shingles is one of the many obvious signs that it may be time to replace your roof. Curled or buckled shingles (also a sign that your roof may need replacing) are prone to shingle blow-offs during winds and storms.
Leaks/Water Damage
Moisture stains and peeling paint from ceilings and/or walls could indicate that your roof is leaking. If your house has an attic, it would also be a good idea to go up there and take a look for yourself. Once you have checked the problem for yourself, now it's time to call a roofer for a professional inspection. Having a professional roofer inspect your roof can allow you to know whether you need a repair or if it's time for a roof replacement.
Your Neighbors Are Getting New Roofs
If you start seeing your neighbors are getting new roofs installed it may be time for you to also get your roof checked out by a roofing pro. Many homes are built around the same time and therefore could mean that your roof is reaching its lifespan.
Granules Missing
Asphalt shingles are manufactured with small pebble-like granules that make up the weatherproofing components of the roof. One way to check if you are losing granules is by checking your gutters for granule buildup. If you see a buildup of granules this means that you are losing the protection that your house needs from the elements.
Curling Shingles
As I mentioned in number 1, curled or buckled shingles are prone to shingle blow-offs during storms and indicates that you may need to replace your roof. Curled shingles is one of the many clear signs that your roof is getting old and reaching its lifespan. This curling of the shingle means that they are not working properly to protect your home and could lead to leaks if left as is.
Having your roof inspected by a professional is important in maintaining a safe and properly functioning roof. Ignoring these 5 signs could lead you to larger and more expensive repairs in the long-run. It is best to have your roof professionally inspected by your local roofer sooner than later. They can tell you whether you need repairs or if it is time for a new roof.
Contact DBI Roofing
Our family-owned business has been serving homeowners throughout the Hudson Valley and surrounding areas with their roofing projects for over 20 years. We know how expensive home renovations can be, which is why we offer Free Estimates and affordable pricing. If you have any of these 5 signs do not hesitate to call us for a FREE no-obligation roof inspection at 845-401-9397. We also offer a 20-Year Labor Workmanship Warranty.
Posted by: DBI Roofing Team
Copyright © 2022 DBI Roofing & Siding, Inc., All Rights Reserved.